Thu. March 25, 2010
Podcast: Play in new window | Download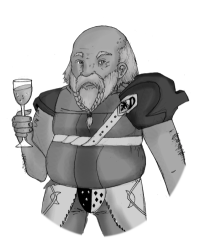 Episode 8 of the Thursday Knights Actual Play podcast is now available!
This week, the PCs investigate what they found at Arath's shop, find themselves in a dance contest, and confront Lurd, the gangster boss of Skyclave.
Timeline
For those of you that would like to skip to specific parts, here is a timeline of events.
0:19.42 Kalla's Vision
1:16.23 Dance Contest!
1:41.04 Speaking to Buddy
1:55.06 Exploring Refuge
2:24.43 Combat!
3:58.59 Wrap-up
Session Materials
From time to time, we will include downloads of materials the DM prepared for the episode.
Live Video Stream
We are now broadcasting our episodes live as we play. We have two cameras in the stream, allowing viewers to see the tactical map in addition to the regular angle of the entire table.
For information on how to tune-in and see us live, become a fan on Facebook or follow us on Twitter.
We may offer a download of the recorded video sometime in the future as well.